Syntivia wishes you a happy new year 2022
A year 2022 full of expertise and innovation!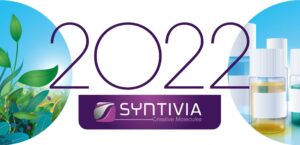 The Syntivia team wishes you a wonderful year 2022, full of joy and exciting projects.
This year Syntivia has a new identity, and we are pleased to welcome you as a center of expertise for the development of cosmetic active ingredients.
Center of expertise in cosmetic ingredients development

After all these years of working alongside you and with strong high-level partners, we master the entire value chain of ingredient development. We can support you from idea to market, at one stage or throughout the development of your cosmetic active ingredient, formulated or not.
To answer your need, your idea, a concept or a claim, we propose you:
Innovative extracts and molecules 
High-tech analyses
Screenings and preclinical studies adapted (in vitro or ex vivo)
Solid and indisputable results
Formulation trials for all types of applications
Relevant clinical studies
A regulatory dossier that meets your requirements
Marketing support for a successful commercial launch
We look forward to supporting you in your research projects in 2022. We will put our energy and expertise at the service of your  projects by following your requirements in accordance with your ethical values.
Events 2022


InCosmetics Global is back to Paris in April 2022!! Syntivia will be present to meet you and present its new developments.

On 24-25 May 2022, Syntivia will be an exhibitor at this first symposium dedicated to clinical and pre-clinical trials. We will be happy to present our services and our new evaluation projects.
You  can contact us at any time to find out how we can help you or follow us on  LinkedIn  to keep up to date.
Warm regards,
The Syntivia Team