SYNTIVIA develops new epidermal spheroid skin model
Syntivia has developed a new epidermal spheroid skin model to test cosmetic and dermatological substances. The model comprises the two main cell types of the epidermis, i.e. Normal Human Epidermal Keratinocytes (NHEK) and Normal Human Epidermal Melanocytes (NHEM). Epidermal spheroids provide a more representative view of the human skin than 2D models, as they arrange the cells of the human epidermis in a sphere-shaped epidermal layer. Syntivia's epidermal spheroids are compatible with all types of biological tests.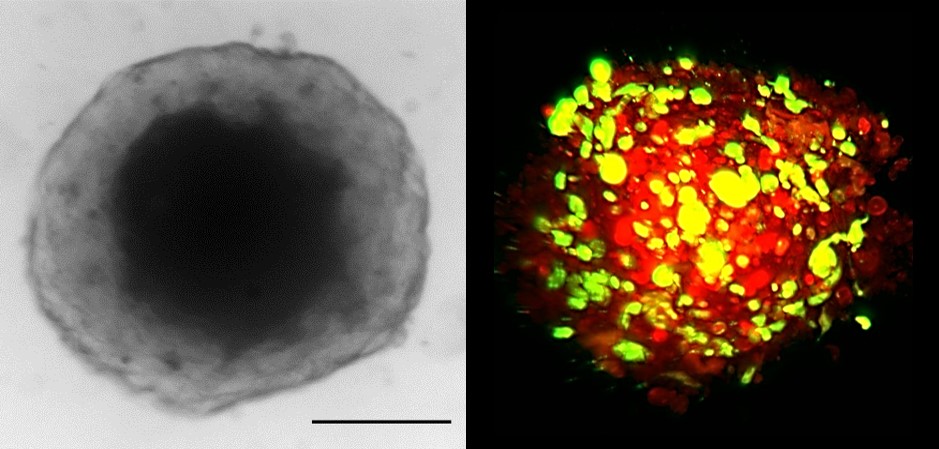 Epidermal spheroid in brightflield (left) or in fluorescence (right) composed of Normal Human Epidermal Keratinocytes (in red) and Normal Human Epidermal Melanocytes (in green)
The epidermal spheroid is a unique tridimensional model. This new patented model consists of a 3D cell culture in spherical shape that recreates the microenvironment of the epidermis. Within time in culture, this aggregate become a very organized organelle with a physiological differentiation of keratinocytes and a conserved morphology of melanocytes dendricity.
The epidermal spheroid has a large number of applications:
Cell survival (WST1 test) and toxicology
Gene expression analysis (genomic chip)
Protein expression analysis (histology and immunofluorescence)
Analysis of specific pathway:
– Pigmentation: melanin assay, melanin transfer
– Differentiation
– Inflammation
The epidermal spheroid is produced in 96-well culture plates making it suitable for compound screening.
Depending on the application, it is possible to pick the melanocytes' phototype. We may even use this model to produce spheroids from unhealthy skin to reproduce and work on specific disorders.
Syntivia's epidermal spheroid is easy to handle and adapted to almost all biological tests currently available for monolayer cultures. Due to its tridimensional aspect, the spheroid model is more representative of the skin's microenvironment and of cell-to-cell interaction than the 2D monolayer cell models that are currently in use. Since epidermal spheroids are closer to the physiology of human skin, they represent a valuable alternative to reconstructed epidermis.
The spheroid is a cellular model that can be used to develop or test active molecules used in the cosmetic industry and in dermatology.
Please don't hesitate to contact us for more information.