Scientific Imaging
High quality illustrations for scientific and marketing documents
Syntivia's experts in cellular biology use state-of-the-art tools to help you find the answers you seek. The high tech equipment we use produces stunning scientific imaging to help you demonstrate the added value of your cosmetic ingredients and formulas and present them to their best advantage. Specific research projects can be illustrated with high quality images and videos to lay the groundwork for your scientific presentations.
2D and 3D scientific imaging techniques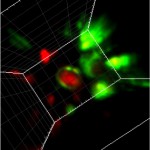 To measure the effect of a cosmetic ingredient on skin pigmentation, melanin transfer may provide a reliable indicator. This 3D image zooms in on a keratinocyte (center of the image in red) that is located inside a 3D model of the human epidermis. The nucleus of the keratinocyte is surrounded by a green light, which indicates that it has just received melanin from a melanocyte. We've obtained this image using Selective Plane Illumination Microscope (SPIM)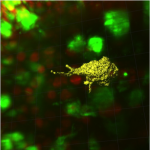 Selective Plane Illumination Microscope (SPIM) was used to obtain this 3D image of a melanocyte conformation. In yellow, we distinguish the surface of a melanocyte in a 3D human skin model. This technique allows us to visualize melanocyte dendricity, which is directly linked to the efficiency of melanin transfer. Incidentally, this image also validates our 3D skin model as it illustrates melanocyte activity.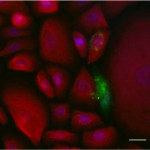 Biphotonic microscope is used to obtain clear 2D and 3D images of cell physiology, survival or cell interaction in order to document the effects of cosmetic ingredients. This image shows a coculture of melanocytes (in green) and keratinocytes (in red) but we can also use other human skin cells to illustrate the efficacy of your cosmetic ingredient. Please don't hesitate to contact us for more information.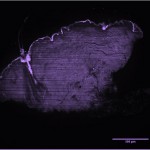 Both Selective Plane Illumination Microscope (SPIM) and biphotonic microscope can be used to give a clear 2D and 3D view of human skin structure. To illustrate the efficiency of a cosmetic formula or active ingredient, we can study dermal and epidermal organization or density. We can also visualize changes in skin compartments: epidermal thickness or dermal fibre structure, sebaceous glands, hair follicles….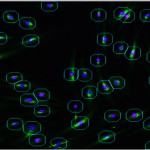 Arrayscan automated microscope allows us to quantify any type of cell protein. This process helps us illustrate cytoplasm or nucleus protein expression. In this image, the microscope has selected Collagen I labelled by immunofluorescence in the cytoplasm of normal human dermal fibroblasts. The protein is automatically quantified with great precision in order to measure the effect of an anti-aging ingredient in skin cells.
SYNTIVIA uses the best life science tools available
To substantiate your cosmetic claims, we have a wide range of high-tech biotechnology equipment at our disposal.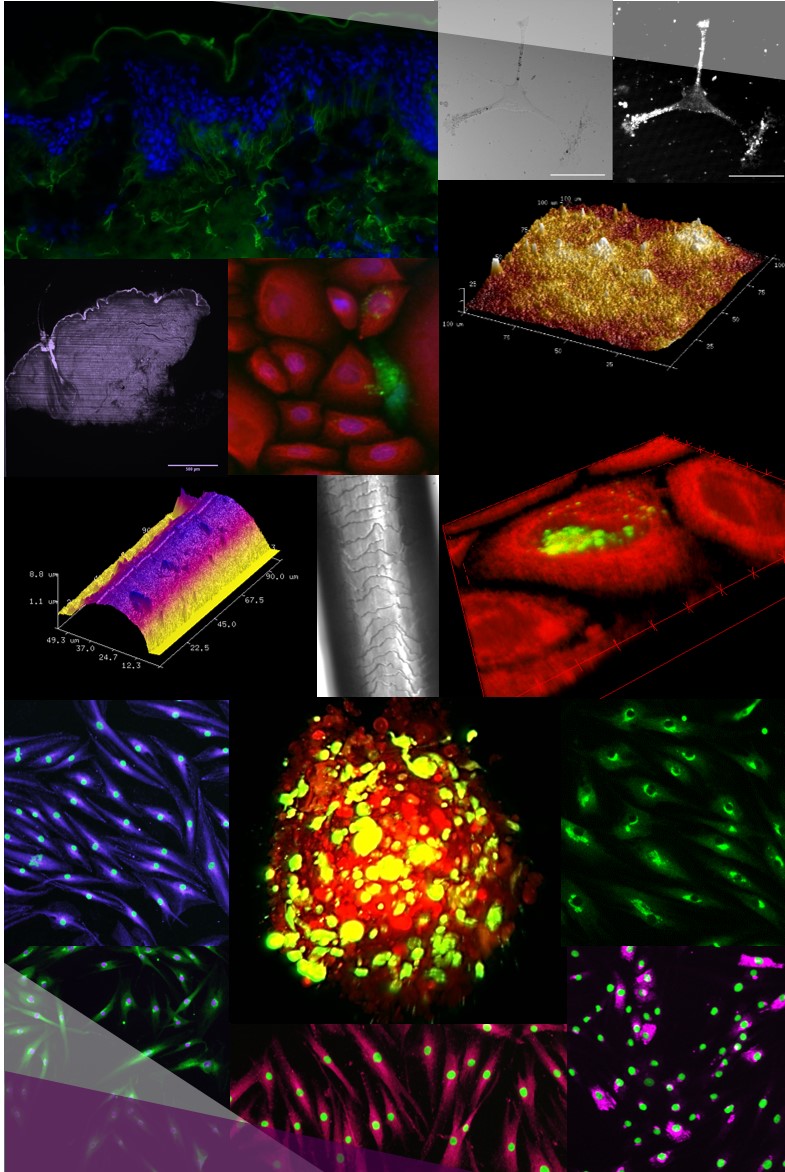 Please contact us for more information on this subject
Contact us