Cosmetogenomics for dermocosmetics
Last January, the European Center of Dermatology organized the 28th European Dermocosmetology Days in Lyon, France. The congress focused on personalized genomics and epigenetics as the future of dermocosmetics. Here at Syntivia, we frequently study gene regulation in the skin using a wide range of cosmetogenomics tests. This process helps us to better understand the activity of cosmetic ingredients and formulas on human skin.
Gene science is complex but the latest technology has increased our understanding of gene expression and regulation. We now have the keys to identify and promote future cosmetic active products.
Gene expression is the first response to aging and external stress. It controls the fate of each of our cells, including our skin cells. The precise quantification of variations in gene expression is a strong signal, not only when it comes to product activity but also to determine its mechanism of action.
Cosmetogenomics for all types of skin models
We work on all types of skin models: Skin cells, 3D epidermal microtissue (epidermal spheroids) or skin explants and help you choose the best model for your study.
Here at Syntivia, we've developed a robust cosmetogenomic screening procedure to highlight new cosmetic active ingredients or formulas. This is our starting point to determine which in vitro / ex vivo tests can be used next to validate biological activity.
Our standard cosmetogenomic chip quantifies carefully selected genes that are implicated in the main skin activities:
barrier function (differentiation, adhesion)
elasticity
firmness
extracellular matrix protection
pigmentation
moisturizing
soothing effect
antioxidant defence…
For more specific research, we develop customized chips to study more specialized activities: response to stress, energy metabolism, pigmentation, anti-aging properties…
Solid data to support cosmetic claims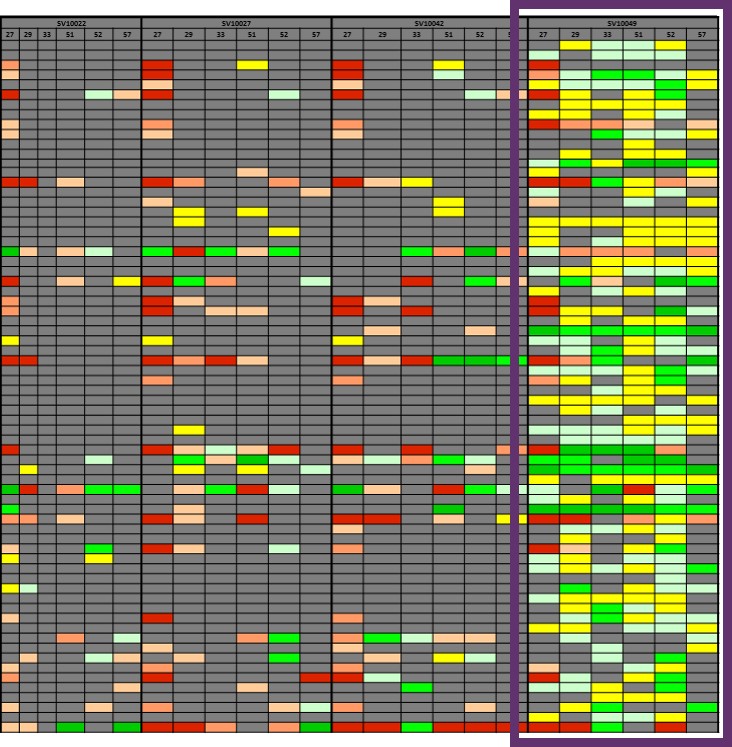 Our cosmetogenomic screening procedure has already led to the development of a new and powerful cosmetic active ingredient (purple frame). The ingredient reactivates genes implicated in the aging process. Subsequent results have been validated at protein level in skin cells and explants.

Don't hesitate to contact us  for more information on cosmetogenomic screening and our other testing procedures.