Anti-aging
Anti-aging: an all-in-one cosmetic claim
Nowadays, quite a number of cosmetic products help postpone or decrease the signs of aging and claim to have an anti-aging effect, which may be:
Preventive, i.e. the product avoids or delays the appearance of wrinkles and other signs of aging.
Curative, i.e. the product improves skin tone or texture, reduces wrinkles, brightens the skin…
Anti-aging claims therefore often encompass other cosmetic claims, such as :
Antioxidant
Moisturizing
Anti-pollution / Detoxying
Photo-protection
Cell longevity
We propose solid anti-aging tests to demonstrate and discover new active ingredients and cosmetic products properties.
Our approach in 5 simple steps
We are able to test most of the anti-aging claims for both active ingredients and complete formulas of cosmetic products such as anti-wrinkle creams, day and night creams, anti-UV anti-aging products, antioxidant anti-aging serums…
To determine whether your ingredient or product has an anti-aging effect, SYNTIVIA offers in vitro tests on 3 different biological models
Primary cells obtained from young to mature donors and cultivated in 2D. These cells can also be studied in a presenecent state to mimic normal intrinsic aging.
Dermal or epidermal microtissue, primary cells in spheroid 3D-culture which reflect the human skin microenvironment more adequately.
Human skin explants from young to mature donors. We use the NativeSkin® model, a full-thickness human skin biopsy embedded in a solid and nourishing matrix while its epidermal surface is left in contact with air. The skin biopsy is firmly embedded in the matrix that prevents any lateral diffusion of topically applied formulations.
We always pick the biological model that seems most adapted to your research.

We do everything to optimize your product evaluation.
Our expertise allows us to suggest new test targets.
Some examples of tests SYNTIVIA may conduct to study
preventive anti-aging claims :
Keratinocyte and fibroblast metabolism (proliferation, longevity markers, cell plasticity…)
Genetic or protein stress markers (oxidative stress, pollution, UV…)
Genetic or protein inflammation markers
DNA damages
Cellular autophagy markers
The rate of free radicals…
Some examples of tests we use to validate curative anti-aging claims :
New or more classic targets related to dermal constituents (structural proteins, GAGs, dermal fibers…), such as:

Collagen
Elastin
Fibrillin
Hyaluronic acid…
Different levels of epidermal cohesion :

Cell/Matrix junction (Expression of Laminin, Syndecan, CD44…)
Cellular junctions: tight junctions, desmosomes…
Stratum corneum: lipids, keratins, Loricrin…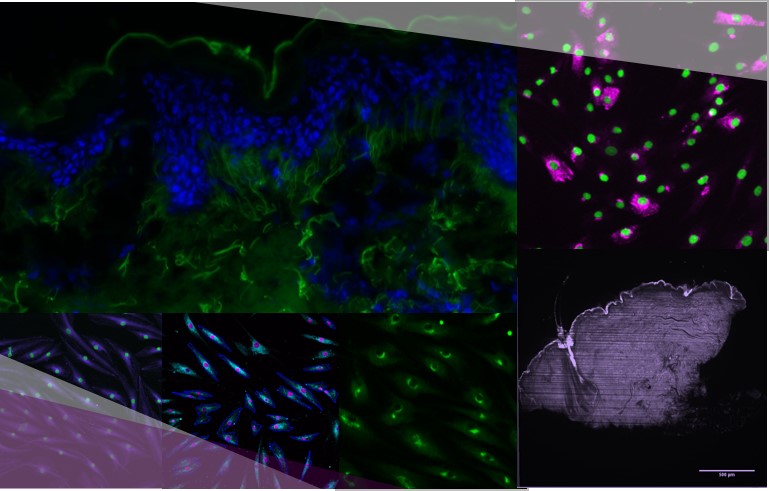 Depending on the tests and tools used, our high-tech equipment will enable you to obtain:
A large quantity of data on the targeted genes and/or fluorescent markers (proteins, free radicals, DNA…).
An expert opinion on the results obtained
Reliable data and statistics
2D photos and videos as well as 3D static and dynamic images for your sales brochures and technical documents.
SYNTIVIA uses the best life science tools available
To substantiate your cosmetic anti-aging claim, we have a wide range of hi-tech life science equipment at our disposal.
When required, SYNTIVIA also uses the more common techniques of molecular biology, such as Western Blot, ELISA, enzymatic assay, comet assays… in order to complete your project and help you obtain adequate results.

Please contact us for more information on this subject
Contact us